A critical aspect of regional equity is whether or not all people in the region are meaningfully involved in – and able to impact – public decision-making. Ensuring that all people are full and equal partners in shaping the policy and planning decisions that affect their lives requires high standards of public accountability and transparency, and it requires outreach tools that work well with the full spectrum of communities that make up the region.
While equitable participation in decision-making is central to the goals of the Regional Equity Atlas, it is not an issue that easily lends itself to being mapped. The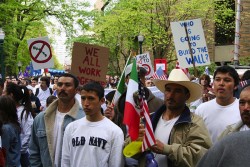 Democratic Participation Map Series focuses on one of the fundamental components of democratic participation that can be effectively mapped – involvement in the voting process. 
Photo credits, top to bottom:  Original image URL: https://www.flickr.com/photos/sillydog/594958246/ Title: oregon-style-democracy;
Original image URL: http://www.flickr.com/photos/brian9000/138590059/ Title: IMG_9103;
Original image URL: http://www.flickr.com/photos/healthcareunited/2468173894/ Title: Oregon Healthcare forum